Clients
My peeps
Rachell Abalos
Rachell Abalos is a first generation Filipino-American with a BA in Literature and Writing. She has published several microfiction stories and won Most Original Story in Sweek.com. She was also an honorable mention in the "Warm Fuzzies" category for the 2020 Spring Fling Kidlit Writing Contest. Rachell's debut picture book OUR NIPA HUT comes out with Barefoot Books in Spring 2024.
C.H. Barron
C.H. Barron is a Filipina author transporting readers to fantastical worlds occupied by fierce, diverse characters. She's passionate about ensuring Filipinx readers see themselves in more books, helping writers make their novels the best they can be, and defending the Oxford comma. She's been a content marketing strategist and copywriter for technology brands for over 15 years and volunteers her time as a mentor in the #WriteMentor program and a tutor for 826 Boston, a youth writing and publishing organization for traditionally underserved youth. When not writing, she can be found running, experimenting in the kitchen, and shouting answers at the TV during Jeopardy!
Juli Beck
Juli Beck is a children's book author and Aspiring fancy-braided challah baker. She currently works as a copywriter and graphic designer, though she used to work as a Speech-Language Pathologist (SLP). This is where she discovered her love for picture books and began to write her own.
In her free time, Juli can be found rock climbing around San Diego and experimenting with her challah recipe. She is a member of SCBWI and ASHA (American Speech-Hearing Association).
Leila Boukarim
Leila Boukarim was born in Lebanon but spent the first seventeen years of her life in different countries, visiting only in the summer. She is the Picture Book Critique Coordinator for SCBWI Singapore and a member of Julie Hedlund's 12x12 Picture Book Challenge. In addition to presenting workshops at the Asian Festival of Children's Content and the Singapore Writer's Festival, she regularly conducts school visits that cater to children from kindergarten to middle-school. Leila has published six picture books with Marshall Cavendish and two with Penguin Random House SEA in Singapore. The first book of her graphic novel series ZIPS AND EELOO is due out in Spring 2024 with Andrews McMeel. TABLE FULL OF FOOD, a picture book biography, comes out in Spring 2025 with Chronicle Children's.
Matthew Broberg-Moffitt
Matthew Broberg-Moffitt is a writer of kidlit and non-fiction, with bylines in Thinknum Media. He contracts as a Sensitivity and Expert Reader with Salt and Sage Books. The majority of his projects are inspired by his experiences in life with homelessness, Autism, and chronic rare illness. He's a classically trained chef, former substance abuse counselor, erstwhile computer repair tech, and one-time Buddhist monk.
Matthew has a son in college, and frequently hears, "How do you have a child that's college age?" He is surrounded by a number of cats that don't belong to him, but try telling them that. His hobby is collecting hobbies. He currently lives in Oklahoma City, OK.
Evaline
Evaline is a writer and graphic novel creator and a translator of East Asian languages. As a mixed-heritage Asian-American Evaline loves mixing themes and motifs of Western and Eastern culture in her art and stories. When not writing or drawing, Evaline enjoys learning new languages. She is fluent in English, Japanese and Mandarin Chinese and is currently learning Korean.
AR Cribbins
AR Cribbins is artist/illustrator, writer and general creatrix. They are a member of the Society for Children's Book Writers & Illustrators (SCBWI) as well as Tapestry of Voices, a local SCBWI initiative dedicated to celebrating and centering diverse voices in children's publishing. AR has published fiction in literary anthologies, including VoiceCatcher and Queer Fish. Some of their favorite activities are reading and drawing with their kids and encouraging their creativity. Their debut picture book DANCE FAST comes out with Little, Brown Children's in Fall 2024.
Ha Dinh
Ha Dinh is a mother, primary teacher, curriculum author, a national teacher presenter. Before receiving a Master of Art in Early Elementary Education, she earned a Bachelor of Art in English and Humanities from the University of Louisville. Her own immigration from Vietnam to a Filipino camp to the U.S reflect her first-hand experience as a Vietnamese American and a child refugee. She has also built a strong community of teachers and parents through her blog Happy Days in First Grade and on Instagram with 45K+ followers. Ha's debut book MY FOREVER HOME comes out with WaterBrook, an imprint of Penguin Random House, in Summer 2023. Ha's next picture book THE JADE BRACELET is slated for Spring 2025.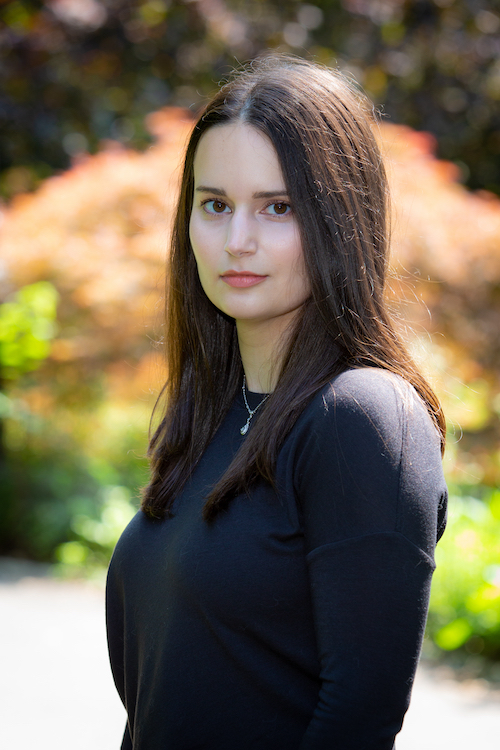 Laura R. Samotin
Laura R. Samotin is a PhD student in political science at Columbia University. She has published her research on international security with Georgetown University Press and Cambridge University Press, and in academic journals. She enjoys using her academic work on military tactics, power politics, and leadership to enliven and inform her creative writing. She is serving as a 2021 #DVMentor mentor and a 2021 WriteMentor Summer Program mentor, and also runs the website query101.blog to help authors on their writing journey. She lives in New York City with her spouse, and when she's not researching or writing, she relishes her role as a full-time cat servant.
Mato J. Steger
Mato J. Steger is an openly out and proud Trans, Queer, and Anishinaabe and Cherokee (North American Indigenous) fantasy and sci-fi writer. In 2020, Mato had a short story accepted and published by Cloaked Press, LLC in their Fall into Fantasy 2020 anthology. He has had several articles published with The Huffington Post's Queer Voices on sexuality and toxic masculinity. His short story "Aesthetically Hungry" is forthcoming in the queer YA sci-fi anthology OUT THERE (Inkyard, May 2022). In 2021, Mato mentored an unagented writer through the WriteMentor Summer Programme. Mato currently lives in Oklahoma with his partner, their eight ferrets, their cat, and their four housemates.